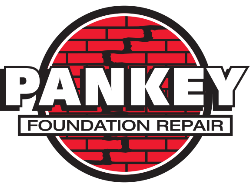 Why do foundations settle?
When a foundation starts to settle, it will usually continue to do so. Some homes will settle faster than others depending on the construction of the home. The sooner the settlement problem is addressed the less damage will occur and the less money you as a home owner will spend.

Windows/doors/cabinets that stick or are misaligned

Chimneys and porches leaning away from structure

Cracks in foundation walls

Water in basement
How do you fix a settling foundation?
Settlement problems can all lead up to needing underpinning piers. Piers are designed to give new support to structures that have lost their existing support/integrity.
Steel piers are steel pilings hydraulically driven under the foundation footing to bedrock or load bearing strata. The weight of the structure is then transferred to the steel piers and off the unstable soil.
A hole is excavated adjacent to the foundation wall and to the bottom of the foundation footing at each location where a foundation pier is specified.
Steel pipe is then hydraulically pushed under the foundation footing until bedrock or load bearing strata is reached.
A hydraulic lifting jack will then be used to either raise the foundation or stabilize it in its current position.
The pier is then locked into position and the hole is backfilled.
** Steel piers will result in either stabilization (no further movement to the foundation) or return the foundation to pre-settlement condition. Many factors will determine the final outcome but usually it is limited to the integrity of the structure.**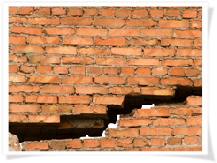 After having 5 different foundation companies come out and give me estimates, I decided on Pankey Foundation Repair. He had a fair price and I liked how the owner came out and did the work. I would highly recommend this company for any of your foundation problems. Job Well Done!
-Shawna



Soil in the Kansas City Area can contain expensive clay. In the rainy seasons the moisture content of the clay soil increases and therefore the soil expands. In the summer months the clay will dry up and the soil will retract (similar to a sponge drying up.) As the moisture content of the soil decreases foundation footings and walls will start to shift and settle.