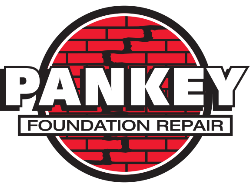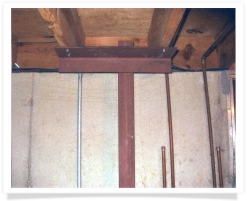 Steel braces or Vertical Wall Restraints are generally installed to a foundation wall that has moved ¾ of an inch or more. Walls will push in laterally due to expansive clay soil swelling, creating hydrostatic pressure against the foundation wall. Steel beams are installed vertically against the wall and anchored to the floor joists above and to the concrete floor below.
Wall Straightening - Generally walls that have moved more than 3 ½ inches should be straightened back to their original level position. To achieve this, the foundation wall is excavated and the house is temporarily raised slightly off of the foundation. The braces are installed and the wall is hydraulically leveled back to its original position. The house is then rested on the wall and cracks on the exterior are sealed and dirt is backfilled.
Call Pankey Foundation Repair today to schedule your free estimate.