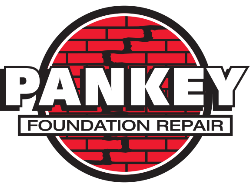 We propose to hereby to furnish material and labor - complete in accordance with the above specifications for the sum listed. Payment for each stage due upon completion. Pankey Foundation Repair guarantees our workmanship for 25 years. Furthermore, the homeowner is required to maintain a proper grade away from the foundation and also monitor guttering and downspouts to ensure water will flow freely away from foundation walls. Lack of homeowner maintenance listed above will result in poor drainage and the possibility of lateral wall movement. In this case the problem shall be solved at the homeowners expense.
Acceptance of proposal - The prices, specifications, and conditions are satisfactory and are hereby accepted. You are authorized to do the work specified. Payment will be made as outlined above.

Call Pankey Foundation Repair today to schedule your free estimate.